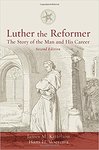 Title
Luther the reformer : the story of the man and his career, second edition
Description
For nearly thirty years, James M. Kittelson's Luther the Reformer has been the standard biography of Martin Luther. Like Roland Bainton's biography of the generation before, Kittelson's volume is the one known by thousands of students, pastors, and interested readers as the biography that gave them the details of this dramatic man and his history.
The accolades were well deserved. Fair, insightful, and detailed without being overwhelming, Kittelson was able to negotiate a "middle way" between the many directions of historical research and present a more complete chronological picture of Luther than many had yet portrayed.
For this revised edition, Hans H. Wiersma has made an outstanding text even better. The research is updated, and the text is revised throughout, with images, bibliographies, and timelines to enhance the experience.
Recommended Citation
Wiersma, Hans, "Luther the reformer : the story of the man and his career, second edition" (2016). Faculty Bookshelf. 41.
https://idun.augsburg.edu/monographs/41